Description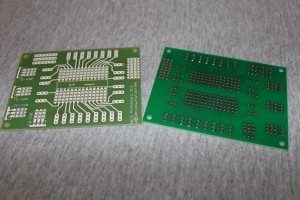 Only available here at Jet Pack Academy, Ian put his decades of experience teaching electronics to good use in custom designing these prototyping circuit boards.  Designed for building permanent prototype electronic circuits, the PCB includes the traces silk screened on the top side so you can see what copper runs where.  With busses for power and slots for TO-220 cased components (such as power transistors and voltage regulators included in the Analog Electronics Kit), as well as spots for external connectors. It can handle up to a 28 pin DIP chip.  You receive FIVE of these protoboards, regularly $4 each with shipping, you can get 5 for a mere $16.75 +$8 shipping.  Wanna buy 10 and save even more?  You know you're gonna use'em up!  Or you can buy them individually.
Inquiries about orders can email kits@JetPackAcademy.com or you can call toll free in the US and Canada 1-877-532-9160 and hit 1 at the menu.
Delivery times: Please allow one week turnaround time. International deliveries should expect 2 to 6 weeks delivery times.