Description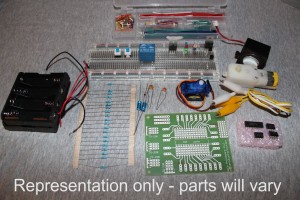 With apologies, I will not be selling kits or parts until at least January or February due to my job and the Canada Post service disruptions. Hopefully we'll be distributing kits from the United States shortly, possibly having that in place by late December. In the interim: you can download the parts list with links to suggested sources for all of the parts you'll need for this course by clicking here.
$65 + $20 shipping and handling, Just $85
All the electronics parts you need for the Robotics Course, Part 1: Electricity and Electronics.  The kit includes all the parts needed for all of the electronics projects covered in the course and includes: Resistors, capacitors, diodes, LED's, transistors, a photosensor, voltage regulator, microchips including an op amp, audio amp and timer, pushbuttons, a relay, DC motor, a speaker, jumper wires and breadboard, battery holders, a servo motor, alligator clips, and one of Ian's custom designed protoboards for soldering your circuit into a more permanent circuit!  You can also order more of Ian's protoboards here on Jet Pack Academy.
A NOTE ABOUT SHIPPING: I have experienced a lot of bad experiences with shipping, including some people not receiving their kits for 2-1/2 months after I mailed it.  I have no explanation for this.  None of us wants to pay $70 shipping, which is what it will cost because that's the next level up for small packet mailing.  So all I can say is please be patient. The small packet shipping does not come with a tracking number. To have a tracking number is a $65 cost.  I don't like any of this, but this is what I have to work with I'm afraid.