Description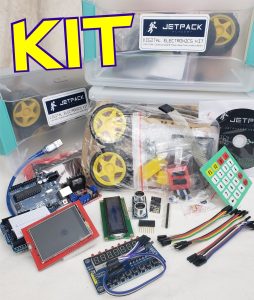 With much regret, I can only offer shipping to NORTH AMERICAN ADDRESSES ONLY. Global shipping costs have gone up three fold and has become a horribly unreliable train wreck in the past two years and we've had too many packages just go missing. I'm sorry to disappoint, but any orders to addresses outside of the United States and Canada will be cancelled.
This is the digital electronics kit for the second module Digital Electronics in Ian Juby's Robotics: Learn by building series.  Please note that you will also need the Analog Electronics Kit to complete the Digital Electronics module of the series.
$120 US with free shipping.
Inquiries about orders can email kits@JetPackAcademy.com or you can call toll free in the US and Canada 1-877-532-9160 and hit 1 at the menu.
Deliver times: Please allow two weeks turnaround time.